Tool Rental
A good workman praises his tools!
Products are nothing without the right tools for a project in hand...literally!  Whether you are a DIY enthusiast wanting to go it alone, or a tradesman looking for specialist equipment for a one-off job, you will value being able to get hold of quality tools that are going to save you time, expense and energy as well as help you create a professional finish, that doesn't cut corners and makes your life, and work, easier!
If you work in the building trade then investing in purchasing tools may be the most cost-effective plan so that you can add to your assets with quality equipment that will work for you time and time again.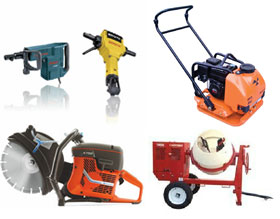 At Bryam Mason we stock a wide variety of Tool Rental & Sales:
Concrete Mixers
Plate Compactors
Demo Saws
Table Saws
Power Washers
Generators & Portable Electric Mixers
Much more…
Want to rent or buy tools?