Drainage Products
Wide in-store stock and special order delivery!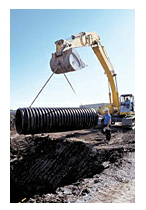 Whatever type of property project you are involved with, domestic or commercial, quality drainage products can make all the difference. Daily activities, the natural elements, as well as landscaping needs, all require extensive, innovative and quality drainage products. Byram Mason stocks plastic and concrete  drainage products for every need, such as:
Roof drains
Floor drains
Rainwater systems
Underground drainage
Vertical drain solutions
Bryam Mason Drainage Products
Plastic Pipe (PVC, ADS Coil Pipe, Schedule 35 & Schedule 40)Ÿ
Complete Line of NDS Catch Basins, Channel Drains & FittingsŸ
Concrete Catch Basins – CULTEC Dry-wells
Steel Channel Drains & Cast Iron Frame & GratesŸ
Bell Traps – Filter Fabric
Sump Pumps & Sump Pump Liners
Look at our wide range of products!
Or place a special order for delivery within days!