Stucco
The ultimate interior and exterior wall coverings!
Stucco has been a popular coating for many years because of the wonderfully smooth, professional finish it gives to walls.
Byram Mason Supply carries a complete line of California Stucco and Stucco accessories. We stock several different colors of portland cement stucco and can usually accommodate any custom color within a few days.
On-Site Custom Coloring
We have the ability to blend custom colors of both California Stucco and Maserwall Stucco on site. Thousands of Colors are available and can be ready to pick up within 1 Hour. We can also match any color you choose.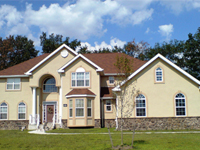 Conventional Portland Cement Stucco
Ready for use – simply add water!
80lb bags – covers 50 sq ft
25 colors
Texture-Flex Elastomeric Acrylic Coating
Durable and elastic with crack resistant finish
60 lb pails – covers 130 sq ft
60 colors
RollFlex
Top of the line acrylic elastomeric polymer coat
Can be used over cement stucco for repairs and detail work
5 gallon pails – covers 325 sq ft
Wide range of colors
Elastocote
Masonry coating applied by brush, roller or airless sprayer
Can be used over cement Stucco for detail work & reviving aged Stucco.
5 gallon pails – covers 500 sq ft
Wide range of colors
Bryam Mason promises the perfect finish!
Let us help cover your project TODAY!